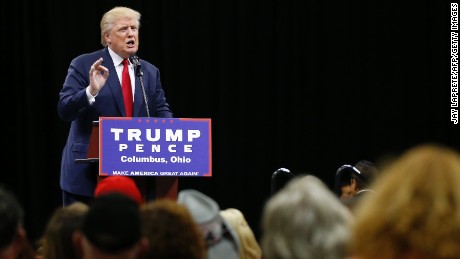 Washington (CNN)As the blowback to Donald Trump's public feud with a Gold Star family escalated on Monday, the GOP nominee's campaign sent out talking points to congressional supporters urging them to come to his defense.
The appeal didn't generate much back-up for Trump. His continued back-and-forth with Muslim-American parents of a US soldier killed in Iraq left most Hill Republicans perplexed at how the GOP nominee wouldn't let go of a spat with a grieving couple.
Scott Mason, one of the Trump campaign's Hill liaisons, emailed congressional supporters Monday afternoon with a lengthy response to the Khizr Kahn, whose speech at the Democratic National Convention in Philadelphia drew national attention. In it, Khan offered tough pushback to Trump's proposed temporary ban on Muslim immigration and an emotional story about his son who died fighting in the Iraq War.
Mason's message was for Hill offices to push out the campaign's messages via press releases and social media to counter Khan's continued critique of Trump, and encouraged offices to "forward to me ASAP."
The request came after Republican senator and former P.O.W., John McCain of Arizona, sent out a scathing take down on Trump earlier in the day for "disparaging" Khizr and Ghazala Kahn.
"Arizona is watching. It is time for Donald Trump to set the example for our country and the future of the Republican Party. While our party has bestowed upon him the nomination, it is not accompanied by unfettered license to defame those who are the best among us," McCain said.
Reuters first reported
on the Trump campaign's efforts to get Republicans in Congress to come to the billionaire nominee's defense.
In the document, obtained from a congressional source, the campaign argued that this is not fight between Trump and the Khan family but "this is really about Mr. Trump vs. Hillary Clinton and who has the best vision for defeating radical Islamic terrorism."
It also said: "Captain Khan and thousands of other brave American military members might still be alive today if Hillary Clinton had exercised better judgment and not created the hostile environment for our military in the Middle East. Iraq, Syria, Libya and Iran are areas of upheaval and unrest that are actively acting against American interests."
Khan was killed in 2004, while George W. Bush was president and before Clinton served as secretary of state.
The campaign missive urged its supporters to call on the Democratic nominee to "own up to these mistakes and apologize for the actions they have caused."
There was little evidence that Republican members were listening to the suggested language from the Trump campaign.
GOP aides told CNN they were mystified that Trump continued the feed the storyline, tweeting as late as Monday morning about Khan's television interviews, digging in on the position that Khan had "viciously" attacked him.
Statements from vulnerable Republican senators and House members up for re-election denounced Trump's tough language directed at the Khans, and honored them for their sacrifice for the nation's security. Few members actually mentioned Trump by name.
But not a single Republican seeking to distance themselves from him revoked their support for the 2016 Republican nominee.
GOP Rep. Marsha Blackburn encouraged Trump to apologize to the Khan family, though, in an interview with CNN's Wolf Blitzer. She also urged Clinton to make an apology to Pat Smith, a speaker at the GOP convention, whose son was killed in Benghazi.
Democratic lawmakers pounced on the issue.
Three House Democrats who served in the military — Reps. Ted Lieu, D-California, Ruben Gallego, D-Arizona, and Seth Moulton, D-Massachusetts — sent a letter to House Speaker Paul Ryan urging him to withdraw his endorsement of Trump.
Read more: http://www.cnn.com/2016/08/01/politics/donald-trump-khizr-khan-election-2016/index.html