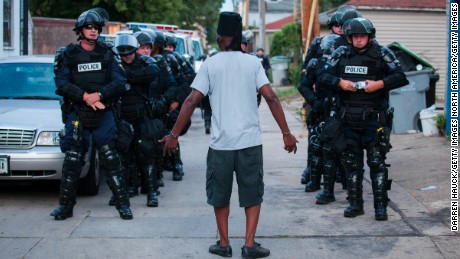 Milwaukee, Wisconsin (CNN)Sylville Smith and the Milwaukee police officer who fatally shot him had crossed paths before a lethal encounter that led to days of unrest, according to Smith's relatives and friends.
A
city long marred by racial strife
erupted in violence over the weekend after the police officer shot the 23-year-old in the arm and chest when Smith failed to put down his handgun, city officials said.
A pair of officers had stopped Smith and another man in a car Saturday afternoon when the men bolted on foot. Smith was black, as is the unidentified 24-year-old officer who shot him.
Smith's sister, Sherelle, said her brother and the officer attended the same school at one time.
"The officer knew him personally from high school and he still shot him," Sherelle Smith told CNN on Wednesday. "He didn't like my brother. The officer had a career, but my brother was more popular.
He used to harass Sylville."
There also are frequent attempts to humiliate people in impoverished sections of the city, Jackson said.
"During questioning or stops, officers would often ask black men, 'Are you working?'" he recalled. "When they said, 'No,' the officer would say, 'What a shame. How can you consider yourself a man and not work? If I had children, I'd shovel s— if I had to.'"
After Saturday's shooting, Mayor Tom Barrett said police body camera footage showed Smith holding a handgun during the encounter.
Police said the officer shot Smith after he failed to comply with orders to put his gun down, which was loaded with 23 rounds — more than the officer was carrying.
Smith's sister, Kimberly Neal, mourned a brother she described as a high school graduate who played basketball, not a "man with a lengthy arrest record" described by police.
Protests over the shooting turned violent over the weekend as at least six businesses were torched, cars were burned and four officers injured in the clashes.
The damage was not as extensive Sunday night, but shots rang out in three locations, and an 18-year-old man who was struck in the neck was hospitalized, police said. At least seven officers were wounded, including some who were hit by rocks and bricks.
The area has been calmer in recent days but the shooting brought festering racial tension to the surface. Community leaders said the violence was a byproduct of inequities, injustice, unemployment and lack of educational opportunities.
Read more: http://www.cnn.com/2016/08/17/us/milwaukee-police-shooting/index.html